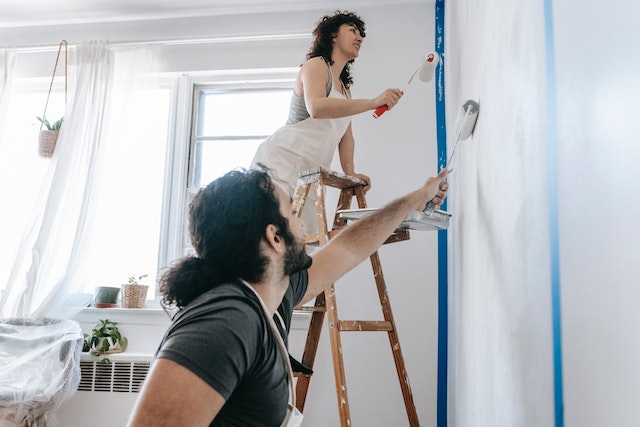 Renovating your home can be a creative and exciting project, but it's important to avoid making common mistakes. There are a few things you'll want to make note of so that the process will go exactly planned. By avoiding these five mistakes, you can help ensure your renovation project goes as smoothly as possible. Here are five mistakes to avoid during your home renovation:
1. Not Working with a renovation Architect
The biggest mistake you can make during a home renovation is not hiring an architect. Even when planning small renovations, it's essential to work with a reputable renovation architect. They will support you in drafting a design plan that will not only look great and function great but also meet all safety and building code requirements.
It's common for homeowners to think they can save money by skipping on hiring an architect. While this might be true in the short term, over the course of your construction you will end up spending more on repairs, fees and extra labour costs. Always work with a trusted architect, if you need help finding the right architect for you. Speak with the team over at Happinest, they are experienced and professional renovation architects skilled in various home renovation projects.
2. Not Getting Permits
Another big mistake homeowners make when renovating their homes is failing to get the proper permits, this is why it's essential to partner with an architect who can help sort your project. Depending on the size and design of your renovation, you might need specific permits from local authorities in order to begin any construction. Failing to get the proper permits will result in fines and slow down your construction. It's always recommended to speak with your local authorities before starting any work.
Avoid delaying your project and incurring additional costs by handling all permits and permissions before any renovation begins. By doing this, you can help ensure that your home renovation goes smoothly the first time.
3. Not Staying On Budget
When beginning your home renovation it can be easy to get carried away with the creativeness of your home, but it's important to stay on budget. To avoid this, set a realistic budget before beginning any work and make sure to stick to it. Start by making sure you know exactly how much you can afford and be sure to factor in any surprise expenses. This will help you avoid overspending, slowing down your project and going into debt.
Factor in the cost of materials, labour, and any permits. You can also speak with your architect to find any cost-effective supplies or design options. By avoiding overspending, you can ensure that your home renovation project doesn't break the bank and stays within your expected timeframe.
4. Not Hiring a Contractor
Much like hiring a renovation architect, even if you're experienced in construction, it's always a good idea to hire a professional to handle all the renovation work for you. A skilled contractor will be able to make sure your project is built properly and on schedule.
Be sure to consult with your contractor on whether your ideas can be constructed effectively. Having a contractor who is familiar with the various aspects of home renovations can give you insight into potential costs or issues with the build. By not hiring a contractor you could end up spending more money and having a low-quality home renovation.
5. Not Planning The Space
One of the most overlooked steps in renovating your home is not taking the time to properly plan the space. It's essential that you think about how you want to use the space and how it affects your family's home dynamic. Without proper planning, you could end up in an attractive room without any functional ability.
Communicate with your architect on how you would like to use the space and address any concerns you have throughout the process. By ensuring you are both on the same page, you can design a home extension that is both modern looking and fully functional for years to come. By carefully planning your project you can avoid a handful of common mistakes and will ensure that your home renovation project is as seamless as possible.
Wrapping Up
Home renovation projects can be intimidating, but by avoiding these top five mistakes, you can ensure the process is complemented as seamlessly as possible. Remember to always consult with a team of professionals, plan ahead and budget accordingly. By following these tips, you'll be well on your way to completing a successful home renovation.
Thank you for reading our blog 'Top 5 mistakes to avoid'. Are you looking for a home renovation but don't know where to start? Get in touch with Happinest today.