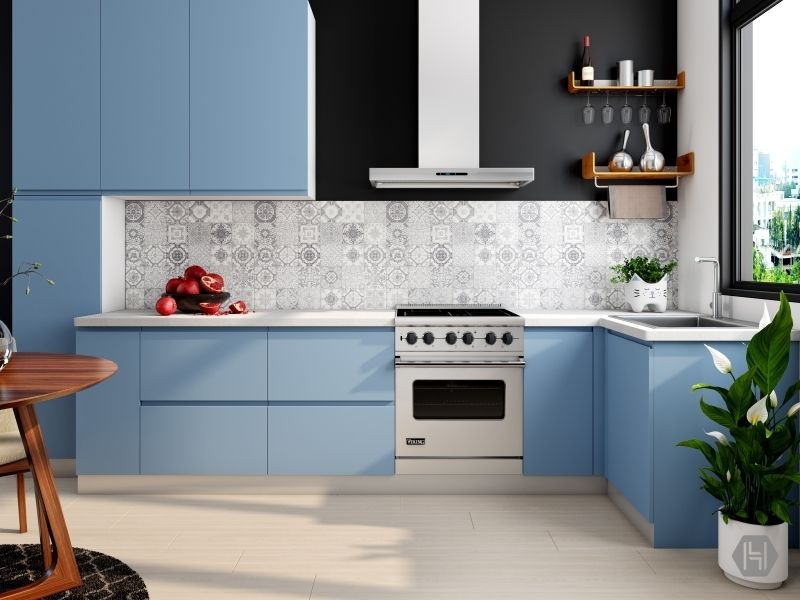 The new-age modular kitchens became a well-liked addition within urban Indian homes because it's customised as per the wants of the homeowner. When compared to traditional carpenter-built kitchens, modular kitchens are more ergonomic, maximise storage, and are easier to use. Since modular kitchens are factory-manufactured, they need to be planned intimately because no changes are often incorporated when the modular kitchen is under production.
Let us help you with some of the considerations when designing your Modular Kitchen.
7 things to consider when installing your modular kitchen:
1. Plan The Layout
Depending on the size of the kitchen, a straight, L-shaped, or U-shaped layout with a good workflow is recommended. Follow the golden triangle rule to make the stove, refrigerator and sink the kitchen's focal points, with a distance between each point of 4 to 9 feet.
2. Choose The Kitchen Appliances
Kitchen appliances should be chosen during the design phase so that they can be integrated into the layout according to their exact sizes. Make sure there are enough plug points for all of the appliances. Determine the final location for the cooktop-cum-chimney unit and select a chimney with a high suction power to eliminate odours and create a smoke-free environment. In the kitchen, one of the most issues is the presence of Cockroaches. So you need to know how to get rid of cockroaches in kitchen cabinets?
3. Optimise Storage
Analyze your storage needs and consider different-sized drawers and cabinets for spices, pots, cutlery, utensils, electronic appliances, and other items. Choose a dedicated pantry unit to house all of your dry kitchen ingredients.
One of the most popular features in modular kitchens is sectional drawers. They elegantly reduce effort while organising your kitchen. Knives, spoons, and other cutlery can be stored easily in these drawers without getting mixed up with the rest of the contents.
Increase the height of the overhead cabinets to the ceiling level to maximise vertical storage. The cabinet top accumulates a lot of dust if there is a gap between the overhead cabinets and the ceiling.
4. Select The Materials
BWR (boiling water resistant) plywood is preferable to less durable materials such as MDF, HDF, or particle-board, which can be damaged in moisture-laden environments. For the exterior finish of the kitchen cabinetry, one must choose from acrylic, laminate, membrane finish, and Duco paint finish. The most popular countertop materials include granite and quartz. Marble should be avoided because it is a porous material that is prone to staining.
5. Colour Combination
Choose a single colour or use contrasting colours in a two-tone colour scheme. Consider a matte finish for your kitchen cabinets, as a glossy finish is more likely to show fingerprints and smudges.
6. Introduce Under-cabinet Lighting
The kitchen's general lighting is provided by ceiling lighting, but the overhead cabinets cast shadows and create dark zones on the countertop. It is strongly advised that under-cabinet lighting be installed to illuminate the countertop and provide adequate task lighting for food preparation and cooking.
7. Modular Kitchen Accessories
There is a wide range of accessories to choose from such as bottle pull-outs, pull-out baskets, cutlery organisers, corner units, tall units and under-sink accessories to fit your kitchen design.
We hope this list has given you some inspiration for your modular kitchen. Remember, these are only the fundamentals. Because it is an expensive investment, you should give your kitchen interiors a lot of thought and research.