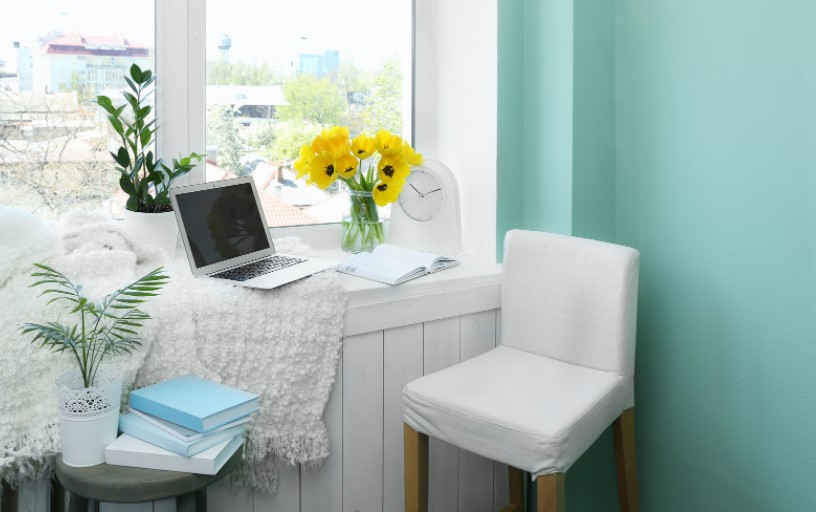 Now that working from home is seemingly becoming the norm, many people are looking for tips and tricks to make their home-based workspace as productive as possible. Creating a productive environment at home requires some key elements that you probably don't even realize.
Of course, not everyone works from home in the same way. Some people work from home full-time, while others will only occasionally work from home due to their workload or other scheduling constraints.
Regardless of your situation, there are some key factors that you should consider when creating a productive workspace at home. Here are eight tips that you can use to achieve that:
Tip #1: Create an inspired workspace
Having your own space to work is important, especially since you're working remotely. It helps if you can find pieces of furniture that will inspire you to work at home, such as an industrial office desk complete with a matching ergonomic chair. This way, when you sit down at your desk, you are motivated to get started with the next task.
Tip #2: Ensure that your workspace is not messy or cluttered
When your workspace is cluttered or disorganized, it can be hard to focus on any task. It's helpful if you have everything in its place so that when you sit down to work, you can accomplish the task at hand.
If you can, make an organizational system for your work area that will help you keep different things separate. This could mean using labels or color codes to separate important tasks. Another option is to have separate bins for different kinds of work, such as a recycling bin for trash and a sorting bin for completed projects.
Tip #3: Make sure your workspace is well-lit
If your current workspace is too dark, it would be difficult to work efficiently without straining your eyes. You can always work better in a space that receives bright sunlight or has overhead lights. So, you should also make sure you have the proper lighting for whatever task you are doing.
Tip #4: Keep all of your necessary equipment on hand
You will want to make sure you have all the necessary supplies and equipment on hand to accomplish a task. This includes a printer, paper for printing documents, a scanner or fax machine, and e-mail access. It also helps if you have a nearby telephone with phone service if you need to make business calls frequently.
Tip #5: Make sure you have your computer in front of you
It can be easy to get distracted when working from home, especially if you are on the computer all day long. To stay focused, your workspace should have a table for your desktop or laptop so that you can remain in one position to complete tasks. This limits your movement, and therefore, reduces the chances of getting distracted by mundane things.
Tip #6: Avoid distractions in your surroundings
There are many distractions around you, whether your smartphone or the television. If you are working at home, it can be especially difficult to stay focused when you're distracted by outside noise or other things going on around you. It's a good idea to turn off the phone and television while you're working, especially if you have a separate room where you work from home.
Tip #7: Make sure that you have a good internet connection
Being online is an important part of being productive in the modern workspace. You need access to the internet and a fast connection for uploading files and streaming videos. That's why you should always have a reliable internet connection in your own home office so you can accomplish your work efficiently.
Tip #8: Inform your family of your working hours
One of the biggest distractions at home is family members who may need your assistance. If you have a separate space that you work in, it is important that they know your working hours and that you stick to them so that they do not disturb you during this time.
By following these tips, you can create a workspace that is perfect for working from home, which will help you to stay focused and productive. There may be certain obstacles here and there, but that's nothing that your creativity can't help you work through.
With that said, once you have created this workspace for yourself, it is important to stick to a routine so that you don't lose sight of why you are working in the first place. Staying motivated throughout your workday will ensure that you keep an eye on what matters most.